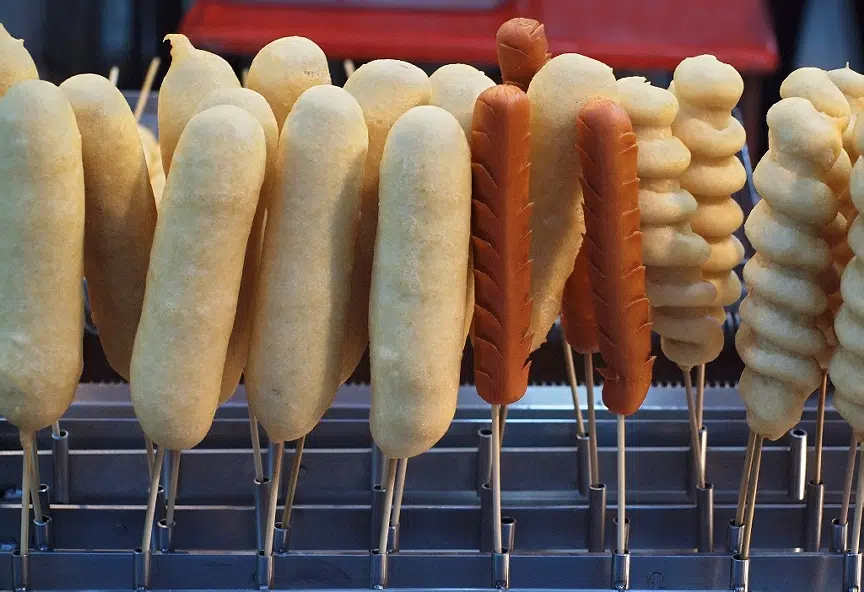 As the weather turns warm, it's time to plan for fairs, festivals and outdoor events. In my world, summer is the best time of the year. Ever since I was a little kid I've been a firm believer that there is nothing like being at your favorite event, scoping out all the food vendors and grabbing food on a stick. There are many types of food on a stick: corn dogs, corn on cob, chicken or steak sute', kabobs and even the turkey leg can qualify as food on a stick. Who would deny the pleasure of a popsicle or even a dilly bar on a hot summer day? Nothing says 'Merica! like food on a stick. You can have your food on a stick in one hand, drink in the other and still be mobile. With the afore mentioned corndog, it can get tricky trying to work the mustard, corndog and drink at the same time. With practice you will master this.
My most memorable "FOAS" event was the 2013 NHRA Winternationals drag race in Pomona, California. I was there with 3 buddies enjoying the races when the snack bell rang and it was time to find food. Preferably on a stick. As "Shep" and I walked the midway I didn't realize that he too was a fan of food on a stick. This was an instant bonding moment for us. There are many people who are not fans of food on a stick. They prefer their stick in the mud. As Shep and I were walking, we came to this one particular vendor that caught our eye and stopped us dead in our tracks.  They had corndogs and something that neither Shep or I had ever seen. A brick of golden, hot, crispy curly fried potatoes. That thing was huge! Literally the size of a shoe box. The corndogs were not to be out done by the brick of fries, it was an 18 inch corndog! Our other two accomplices were desperate to not be seen with us. I thought that Bud and Dale were cultured guys. I guess the sight of Shep and I with our FOAS and now Food in a box  was too much to bear and they disappeared. I would go back to Pamona just for the corndog. The drag racing was pretty awesome too.
My infatuation of FOAS has grown so much that I've mentioned to Lori the possibility of opening a FOAS restaurant. The potential food is endless. And you follow it with DOAS…dessert on a stick. When you hit your next festival be a kid again and grab some FOAS, I know I will.